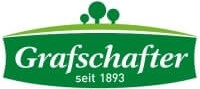 Grafschafter – Natural Sugar Beet Syrup
Where you can still taste the love of nature.
Do you still remember the yellow cup on your grandmother's breakfast table? Even back then, you could tell that she only used the best ingredients on her bread. And grandmother knew that our golden syrup was a delectable and natural treat for both children and adults.
German specialty with an unmistakably good taste!
Showing the single result